You may reach the artist as follows:
Phone: 917-513-6795
Email:
info@selwyngarraway.com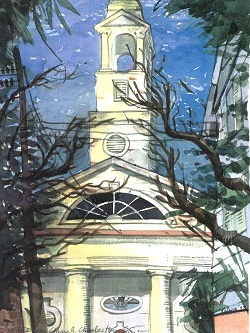 If you are interested in purchasing any of my paintings directly, or have a historic home, family residence or country house you would like immortalized in an original watercolor "house portrait," private commissions are accepted for locations in the New York, New Jersey and Connecticut area. If your house is located outside these areas, I am also willing to travel to accommodate your request or work from quality photographs you provide. Prices range from $ 800.00 to $1,000.00, but a reasonable price structure can be negotiated in advance depending on your budget, the complexity of the architectural details your house and its surrounding landscape, the size of the watercolor, and the length of time involved in capturing its likeness. A typical house portrait can take an average of 5 -6 hours of drawing and painting on site, and another two to four days back at my studio where final details are completed with the help of photographs. All paintings are made on acid-free, museum quality watercolor paper. The completed painting is then delivered unframed to you by UPS, Federal Express or USPS. I look forward to hearing from you soon!