Selwyn Garraway's career as a watercolor painter spans some 40 years. He was born and raised in Trinidad, West Indies where at an early age, he was encouraged by his parents to explore his creative talents well before he received formal art training.
As a youth, he learned various painting and drawing techniques through the influence of art teachers such as Judith Laird and the watercolor painter and architect, Noel Vaucrosson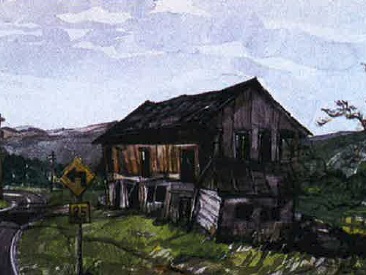 with whom he apprenticed. He exhibited with a group of young, emerging artists and members of the Trinidad Art Society and their association resulted in the 1973 group exhibition, "In Search," at the Trinidad and Tobago National Art Museum. His early interest in architecture, renderings and landscapes was directly inspired by influences from the pen and ink and watercolor paintings by British-born architect and watercolor painter, John Newell Lewis.
In 1974 the artist migrated to the United States to join his parents in Kansas City Missouri and spent the summer of that year visiting the world-class art museums in New York City. He then enrolled in the Fine Arts Department of the University of Missouri at Kansas City before continuing his education at the School of the Art Institute of Chicago where he received his Bachelor of Fine Arts in May, 1980.
While still an art student at the School of the Art Institute of Chicago the artist became a freelance illustrator. His editorial illustrations appeared in the Chicago Reader, Crain's Chicago Business, and Student Lawyer Magazine. In 1982, he moved to New York City and participated in several exhibitions as a member of the then emerging East Village Art scene. In 1996, his watercolors were the subject of a five page spread in Watercolor Magazine, titled "House Portraits," and featured the artist's focus on painting older architecture and landscapes. This article boosted the artist's career and led to many private commissions for watercolor paintings of historic residences or country houses.
Selwyn's work has also been exhibited in several group art exhibitions in New York City, Kansas City, Missouri, Chicago, Illinois, Syracuse, New York, and Key West, Florida at such art institutions as the Nelson Rockhill Art Gallery and Atkins Museum in Kansas City, MO., the Metropolitan Museum of Art, the Art Institute of Chicago, the National Arts Club, Salmagundi Club and Guildhall Museum in East Hampton, New York, among others. In 2017, he received the James Weldon Johnson Fellow in the Arts Award and Artist in Residence at Bard College at Simon's Rock in Great Barrington, MA.

Since 1992, the artist has resided and has his studio in Lower Manhattan, New York where he continues to expand his portfolio, exhibit and accept private commissions for watercolors of country houses or historic architecture in the environs of the New York, New Jersey and Connecticut, but will also travel to more distant locales. He can be reached via his website at www.selwyngarraway.com , by phone: 917-513-6795 or via email at info@selwyn garraway.com, if interested in purchasing his work directly or commissioning a house portrait in watercolors.